Our services
Enterprise Vulnerability Scanning and Discovery
Identifying your IT environment's weak spots can help you quickly prioritize and take action to strengthen your cybersecurity resilience level. By applying automated tools and our in-depth knowledge and experience, we can perform vulnerability scans and continuously help you identify potential vulnerabilities so that you can take the right actions in the right order.
Why You Need a Vulnerability Scanner Created for the Enterprise
The threat landscape is constantly evolving with new avenues of exploitation, and that's why you always need to be on the lookout for new vulnerabilities in your environment. Our Enterprise Vulnerability Scanning and Discovery service uses highly sophisticated and automated tools that scan your IT environment. By combining the results of these scans with our hands-on knowledge, experience, and expertise, we can help you understand which vulnerabilities are most important to mitigate and in which order.
The tools we use can either be installed on-prem to allow you complete control of your data or be used as a modern cloud service when usability and quick deployment are your primary focus. The tools typically scan web applications, systems, and networks.
The Automated Vulnerability Scanning Service Will Provide You With:
A platform for continuous vulnerability scanning.
Insight into your current cybersecurity resilience level and vulnerabilities within your IT infrastructure environment.
Insight on how to prioritize your known vulnerabilities and recommendations on how to mitigate them.
Monthly vulnerability reports.
Quarterly vulnerability report reviews with our experts.
A vulnerability mitigation roadmap.
Access to Truesec cybersecurity and infrastructure experts.
Turn Findings Into Actionable Information
Scanning for and identifying vulnerabilities is crucial, but to really make a difference, the results of the scan must be interpreted, analyzed, and prioritized. Doing so is not always easy; however, understanding your vulnerabilities is key to improving your cybersecurity resilience.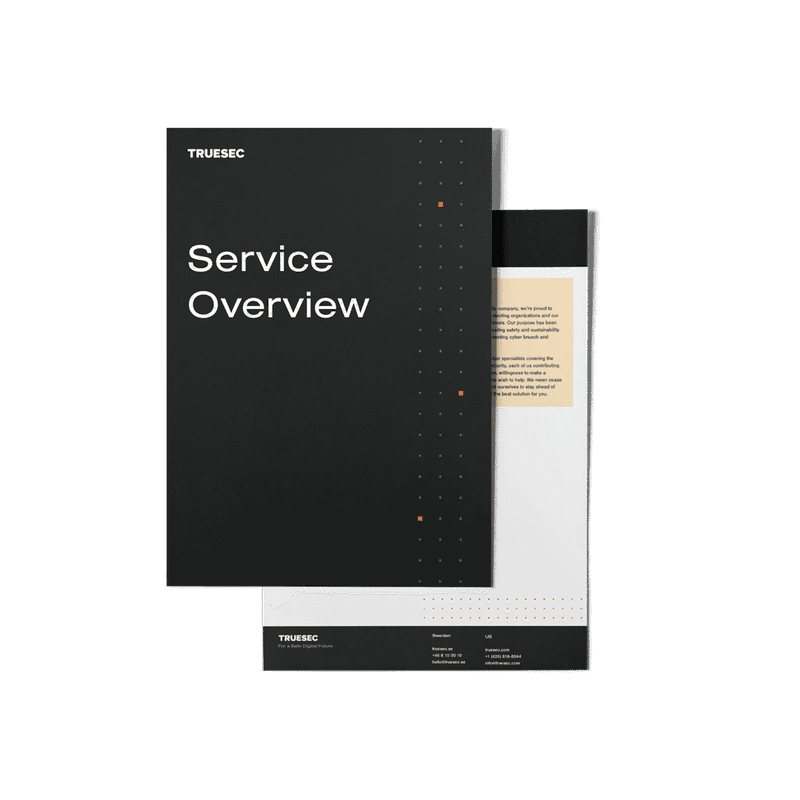 Service overview
Want To Know More?
Our product guide walks you through all the details of how our services can help you. Get it here!
Truesec Threat Intelligence Report 2021
Talk to Us!
Interested in us, our services, or our mission to keep the world safe? Just have a question? We're here, and we'll reply within 24 hours.