Our services
Detect and Disarm
At Truesec, our purpose and values are at the helm of what we do: prevent and stop cyber attacks, protect data, and minimize the impact of breaches. Our 24/7 SOC (Security Operations Center) service, Detect and Disarm, is crafted with this simple purpose in mind.
More Than Just a Security Operations Center
We like to think of our work as more than just a SOC service. When working with us, you get a transparent and collaborative partnership in cybersecurity.
At its core, the Truesec Detect and Disarm managed service is a security analysis team that conducts 24/7 attack monitoring, threat hunting, threat intelligence analysis, and threat remediation. The team analyzes alerts, eliminates false positives, and immediately notifies your team in the event of an IOA (indicator of attack) and takes action to mitigate the attack, contain the threat, and protect your data. As a result, Truesec Detect and Disarm saves you valuable time to focus on increasing your organization's proactive cybersecurity defense.
What Is the Detect and Disarm Service?
A capability-centric SOC operation rather than a tool-centric one. This allows us to offer you the best possible service no matter what products and tools you use – and adapt to any changes that might occur.
Scalable. Our SOC Cybersecurity services can be upgraded or downgraded as your needs change.
Our Detect and Disarm service is designed with 100% transparency. We offer verifiable deliveries and walk you through any actions we've taken.
Lock-in free. The cyber world is constantly evolving, so our tools are flexible and can be replaced when needed.
Customer-focused and collaborative, allowing our SOC team along with our SOC service to become an extension of your organization.
How We Do It
Truesec adheres to a customer-centric data model, where customer data – including tools and services – are provided in customer-dedicated environments. In addition, we manage several detection platforms (EDR, NDR, Cloud Security Services, and SIEM systems) and, when possible, also adapt and use other platforms that our customers have invested in.
Truesec believes that the best quality cybersecurity service is delivered through correctly and continuously tuned innovative tools – with even more innovative operators in front of them 24/7. We consider Detect and Disarm the first (and most often last) line of defense.
Therefore, we use the other parts of Truesec to feed information and knowledge to and from the SOC.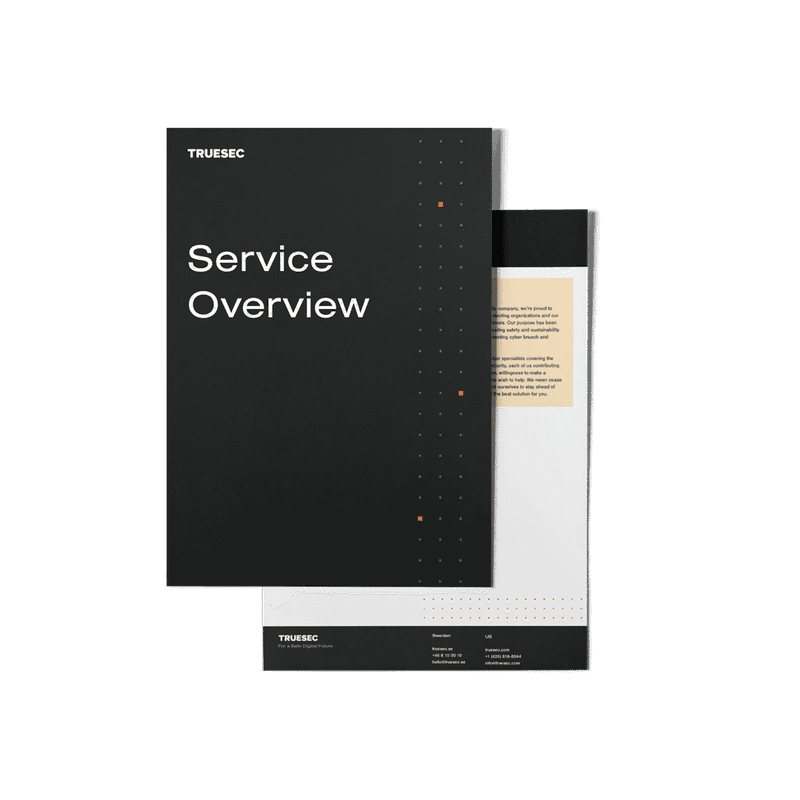 Service overview
Want To Know More?
Our product guide walks you through all the details of how our services can help you. Get it here!
How To Detect and Disarm Security Breaches and Prevent Ransomware
Talk to Us!
Interested in us, our services, or our mission to keep the world safe? Just have a question? We're here, and we'll reply within 24 hours.