Our services
Threat Profile Report
A customer-specific overview of the cyber threat landscape and how it impacts your industry. The report is primarily for slightly larger organizations that are about to begin the process of improving their cybersecurity capabilities. The report provides an in-depth understanding of the real-world threats to your organization and a general overview of how your current cybersecurity posture measures against these threats.
Truesec Threat Intelligence experts will base the report on the deep insight into cybersecurity that we have at Truesec. This means we'll utilize the knowledge and information from several data sources. For example, we use information from our Red Team exercises, our SOC (Security Operations Center), our Cybersecurity Incident Response Team investigations, our forensic research, our information gathering from the DarkNet, and of course, our threat actor analysis – to mention a few.
This report will provide a solid foundation for discussions regarding your current cybersecurity posture and how it measures against the real-world threats that impact your specific industry, as well as what your current cybersecurity threats might be.
Insights Into the Cyber Threat Landscape
Generic Threat Landscape
Industry-specific Threat Landscape
Threat scenarios
Attack surface
DarkNet exposure
Recommendations
Written report and a presentation where you can discuss and ask questions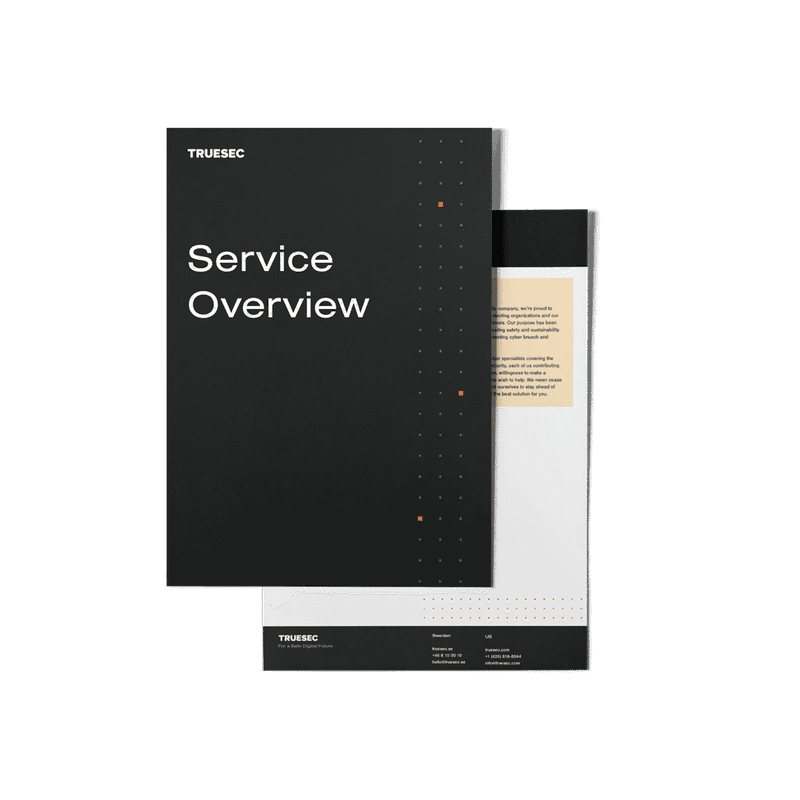 Service overview
Want To Know More?
Our product guide walks you through all the details of how our services can help you. Get it here!
Talk to us!
Interested in us, our services, or our mission to keep the world safe? Just have a question? We're here, and we'll reply within 24 hours.